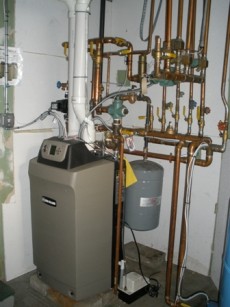 When Old Man Winter arrives at the South Shore, don't get caught with a malfunctioning boiler service. To make sure your home boiler is in the right condition, call Patriot Plumbing Heating and Air Conditioning, Inc., today! Our boiler repair professionals will provide you with the heat you need to stay warm throughout this blustery winter and many more to come.
Patriot Plumbing Heating and Air Conditioning can provide reliable boiler repairs that will have your damaged or worn-out unit operating properly again in no time. We pride ourselves on performing stellar boiler installation and repair work with speed, so that you're never left shivering. From part replacements to routine maintenance, all of our boiler repairs are completed with tools and materials of the highest quality to ensure that your results are long-lasting. We even provide 24/7 emergency boiler service.
Some common problems that indicate the need for boiler repair include:
No heat
Insufficient heat
Strange noises from inside unit
Leaks
Uneven heating
Dramatically fluctuating or unstable temperatures
Patriot Plumbing Heating and Air Conditioning also provides boiler installation in existing and new constructions. We do both propane and natural gas boiler installation, and can even haul away your spent unit to make room for a replacement. Our boiler installers can also perform oil to gas boiler conversions and complete high-efficiency unit upgrades. Trust our experts to help you choose units of the right size and style to provide you with impeccable boiler service for years to come. Our boiler installers will customize your service to ensure that all of your specific needs are met.
Amateur boiler installation and repair are very risky. Not only can they result in additional damages to your unit, but they can also put you and your home at risk for gas leaks and other disasters. No home should be forced to endure insufficient heating because of poor boiler service. For the best results, call in the experts at Patriot Plumbing Heating and Air Conditioning for boiler repairs of all capacities!
Your heating infrastructure is vital to your full enjoyment of your home and to maintaining your property value. Keep your home in great shape, stay warm, and call Patriot Plumbing Heating and Air Conditioning the moment you suspect that you need boiler servicing. We can inspect your entire system and determine the best course of action to ensure you receive nothing less than expert-quality boiler repairs or installation. Call today for a free estimate!