For HVAC services you'll be able to rely on for years to come, call Patriot Plumbing Heating and Air Conditioning, Inc. We've been proudly serving South Shore communities since 2002, and have more than 20 years of field experience installing and repairing systems like air conditioners and water heaters. Our technicians have the skills to provide accurate diagnostics and precise repairs, thus ensuring top-notch performance from your cooling, heating, or plumbing system.
While most of our customer base is residential, we are available to perform furnace repair, air conditioner repair, and other services to small businesses (e.g. churches and law offices) that use residential-style systems. Patriot Plumbing Heating and Air Conditioning can work on both new and existing constructions. Our residential plumber team is fully licensed and insured, and we can provide free estimates for every project.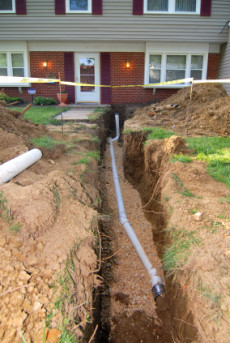 Some of our services include:
Chimney liner installation
Oil to gas conversion
Gas line installation
Water heater installation
Bathroom remodeling
Furnace and boiler repair and installation
Central air conditioner repair and installation
Trust the Experts
When faced with serious tasks like gas boiler service or radiant heat installation, the worst mistake a property owner can make is to hire an amateur. Incorrect or incomplete workmanship could create a plethora of disastrous results ranging from permanent property damage to serious safety threats, such as fire hazards and gas leaks. When you call Patriot Plumbing Heating and Air Conditioning, you will feel at ease knowing that your project is being completed by an experienced residential plumber who can ensure your ongoing safety while meeting all of your property's specific HVAC needs. When you trust an average layperson to install tankless water heaters or complete a furnace repair, chances are you're going to be paying for a professional to fix their mistakes later. Make sure the job is done right the first time around, and call Patriot Plumbing Heating and Air Conditioning for furnace repair and install, radiant heat installation, air conditioning service, and more.
Emergency Services
There's nothing worse than having your furnace break down in the middle of a cold snap, or suddenly discovering that your pipes are leaking so badly that you may face serious property damage without immediate professional attention. Some needs are just too urgent to wait. That's why Patriot Plumbing Heating and Air Conditioning offers 24-7 emergency services. From quick air conditioning service to emergency furnace repair to on-the-spot air conditioning repair, we will be there for you. No one plans for disaster—but when you're faced with one, you can count on us.
We work a variety of top-quality brands, including:
York
Bryant
Carrier
Weil-McLain
Burnham
Buderus
Mitsubishi
Comfort Air
Goodman
Tayco
Rinnai
And more!
Mention Prospect Genius at the time of your call, and receive $20 off.