Everyone should be able to enjoy a beautiful, comfortable bathroom that is fully equipped to accommodate their specific needs and tastes. If your bathroom is stuck in the 1980s, call Patriot Plumbing Heating and Air Conditioning, Inc., today. We provide the professional plumbing services you need to complete your bathroom remodeling project. From gorgeous new sinks and faucets to additional piping, our bath remodelers can improve the function of your facilities and customize each job to fit your particular tastes. Whether you need one bathroom remodeled or are looking to make improvements in multiple locations throughout your home, a bathroom contractor from Patriot Plumbing Heating and Air Conditioning can help. Call today to learn more about how bathroom updates and upgrades can benefit you and your home.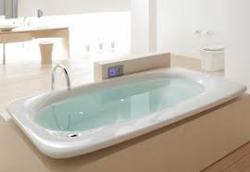 A bathroom contractor from our team will work with you and your hired electrical and construction professionals to make your vision a reality. From creating the initial draft of your new bathroom layout to the last application of plumber's putty, our dedication to quality and customer satisfaction will never waver. From new sinks to showers, our bathroom remodelers will make sure that every piece of plumbing infrastructure is in perfect working order so your bathroom will be ready for new tiles, cabinetry, and other features.
Bathrooms remodel projects should not be taken lightly. Incorrect piping connections and other amateur mistakes can result in burst pipes, leaks, clogs, and other expensive and potentially detrimental property damages. That's why when you want your bathroom remodeled you should only trust the experienced hand of a professional bathroom contractor. When you call Patriot Plumbing Heating and Air Conditioning, you can rest assured that your faucets, drains, and pipes will be installed by a bathroom contractor with more than 20 years of experience. We can handle a variety of demands, from configuring a new sink to installing a large, luxurious Jacuzzi. No matter what your tastes, our bathroom remodeling contractors are ready to help you customize your home's most personal space.
If needed, Patriot Plumbing Heating and Air Conditioning can provide references for skilled construction and electrical personnel so you can be sure that your bathrooms remodel project is handled by bath contractors who are true experts in their respective fields. When our bath contractors team up with other professionals, you'll see such amazing changes, you'll wonder why you didn't get your bathroom remodeled years ago!
Since 2002, homes and small businesses in the Rockland area have enjoyed stunning bathroom makeovers from Patriot Plumbing Heating and Air Conditioning, Inc. Our bathroom remodelers are always keeping up with the industry's newest techniques and most popular trends. Our dedication to our craft—and our customers—is apparent in every project we undertake. To learn more about having your bathroom remodeled, call today!